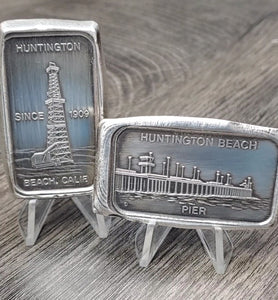 Hand Poured and Pressed Studio bars, Vintage Huntington Beach bar set.
.999 Fine Silver, Antiqued Finish / Sold as a set - 7.72 ozt / Oil Derrick 3.897 ozt & Pier 3.829 ozt. 
For the diehard vintage design fans, a very rare treat - the original Huntington Beach dies from the 80s - This Hand-Poured & Pressed Silver Studio Bar Set from vintage Huntington Beach dies is made of .999 fine silver, making it a high-quality addition to any collection. Each piece is expertly crafted with the finest detail to guarantee an exquisite finish.
Each of our unique hand-poured & pressed silver studio bars are released as Open Micro Mintages, pwith the option to Request custom orders. After the initial FIRST PEICE release, bars will be pressed only a few at a time, ensuring their collectability. We do not mass produce our poured/pressed designs, so each bar weight & details will vary
COA, Noted as First Set - Stamped with 'F' for first