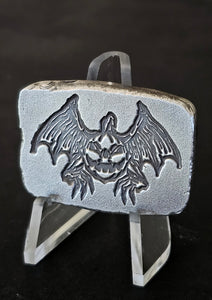 Hand Poured then Pressed Studio ingots, Limited Release 1.5 ounce .999 Fine Silver ingots.
.999 Fine Silver, 1.5 ozt ounce each

BEX Back Stamp 
Antiqued Finish 


Numbered and Dated Certificate of Authenticity 
ALL ORDERS SHIP USPS, SHIPPED WITH TRACKING AND SIGNATURE REQUIRED. SHIPPING CHARGES REFLECT USPS CHARGES FOR THESE SERVICES. WE WANT TO ENSURE OUR CUSTOMERS PRODUCTS ARE DELIVERED, NOT LOST IN TRANSIT. INSURANCE COVERAGE IS ACTIVE UNTIL PACKAGE IS DELIVERED AND SIGNATURE IS PROVIDED. PLEASE DOUBLE VERIFY THE DELIVERY ADDRESS PROVIDED BEFORE FINALIZING YOUR ORDER.