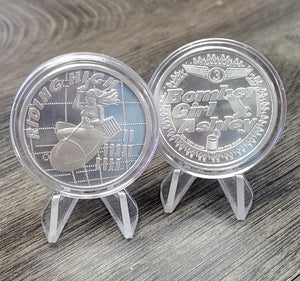 B E X Exclusive! Bomber Girl Ashley is Riding High, No. 3 in the Bomber Girl Series.
Ashley is Number 3 in this fun and growing Silver Art round series, Beautifully captured to immortalize the idea of the Aviation Pinup Girls of World War II. Each silver round has artistic details reminiscent of the era!
Visit us on Instagram to see a video illustrating just how Beautiful these girls are! 
These silver art rounds are made of .999 Fine Silver, 1 Troy Ounce. Each silver round will arrive to you packaged in a Clear Coin Capsule.
3D Sculpted Relief / BEX
3D Coining Dies / BEX
Coin Fabrication/Production - BEX
Designer / Hawkcansun Mint 
Limited Mintage of 3500 pcs 
ALL ORDERS SHIP USPS, SHIPPED WITH TRACKING AND SIGNATURE REQUIRED. SHIPPING CHARGES REFLECT USPS CHARGES FOR THESE SERVICES. WE WANT TO ENSURE OUR CUSTOMERS PRODUCTS ARE DELIVERED, NOT LOST IN TRANSIT. INSURANCE COVERAGE IS ACTIVE UNTIL PACKAGE IS DELIVERED AND SIGNATURE IS PROVIDED. PLEASE DOUBLE VERIFY THE DELIVERY ADDRESS PROVIDED BEFORE FINALIZING YOUR ORDER.